CARD 32
From C64-Wiki
| | |
| --- | --- |
| | This article or section is in the process of an expansion or major restructuring and is therefore classed as a work in progress. You are welcome to assist in its construction by editing it as well. If this article or section has not been edited in several days, please remove this template. |

The CARD 32 is a MIDI interface, that connects to the expansion port of the Commodore C64. It was sold from 1986 to 1988 by Steinberg Research. It includes the sequencer software Pro-16 and optionally the music notation program TNS and EditE. It has seven connectors on the back side: MIDI in, 3×MIDI OUT and Roland Drum SYNC, tape in and tape out for tape machine synchronisation.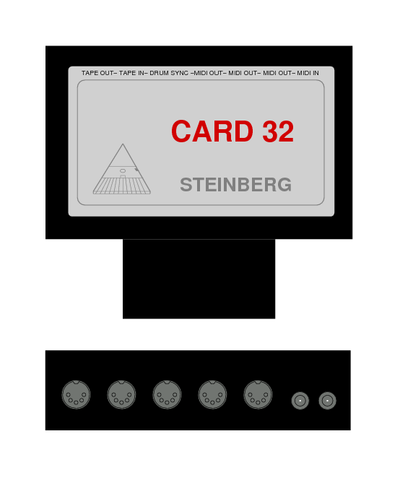 [edit]
Software
The CARD 32 has up to three 16KByte ROMs (27128 EPROMs) that contain MIDI related software for the use with the MIDI interface. It boots up with Pro-16.
[edit]
Pro-16 MIDI sequencer software
Pro-16 is a 16 track MIDI sequencer software.
[edit]
TNS music notation program
TNS is a music notation program.
EditE is perhaps a DX7 patch editor.
EditE is the note / drum editor Eprom.
[edit]
Hardware
Circuit Board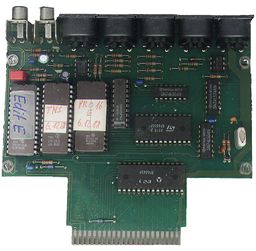 Printed on circuit board is:
©1988
WALDORF ELECTRONICS
CARD32 382 000 0001
COMPONENT SIDE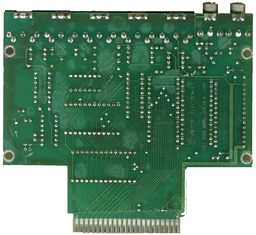 The PCB contains:
Three 27128 ROMs labeled: EditE, TNS, Pro 16
EF 6850 Asynchronous Communications Interface Adapter (ACIA) IC
EF 6840 MOS PROGRAMMBLE TIMER(N-CHANNEL)
PAL 16R68 20-PIN TTL PROGRAMMABLE ARRAY LOGIC
2× 74LS04 Hex Unbuffered Inverter, 74LS74 Dual Positive-Edge-Triggered D Flip-Flops with Preset, Clear and Complementary Outputs
Optocoupler PC900 for MIDI IN
LM311, perhaps for Tape I/O (tbe)
I/O Ports:
Tape In/Out for tape machine synchronisation, RCA jack
Roland DRUM SYNC, 5 pin DIN 41524 jack
Three MIDI OUT, 5 pin DIN 41524 jacks
One MIDI IN, 5 pin DIN 41524 jack
Video of vintage Steinberg software including Pro-16.