Reset (Magazine)
From C64-Wiki
Jump to navigation
Jump to search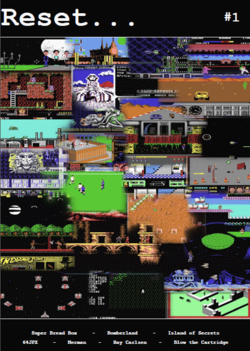 Reset/Reset 64 is an online Commodore 64 retro scene news magazine, "designed to give the modern C64 user a light hearted insight into the current world of the Commodore 64". It is a free, non-profit publication first issued in November 2013. In the moment the magazine is published two times per year.
Since 2017 with issue 9.5 the magazine name is renamed in Reset 64.
Table 1 lists those involved with Reset.
Table 1 - Reset Magazine Contributing Staff
Name
Alias
Role
Kevin Tilley
(Unkle K)
Editor, Staff Writer, Design.
Vinny Mainolfi
(C64endings.co.uk)
Co-Editor, Staff Writer.
Nick Dibble
(Plume)
Staff Writer.
Paul Morrison
(PaulEMoz)
Staff Writer.
Shane Wood
(zap)
Webmaster.
Reset #01 November 2013
Reset #02 February 2014
Reset #03 May 2014
Reset #04 August 2014
Reset #05 November 2014
Reset #06 March 2015
Reset #07 July 2015
Reset #08 January 2016
Reset #09 June 2016
Reset #10 January 2017
Reset #11 May 2018
Reset #12 August 2019