Reset (Magazine)
From C64-Wiki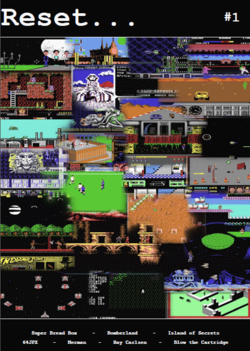 Reset is an online Commodore 64 retro scene news magazine, "designed to give the modern C64 user a light hearted insight into the current world of the Commodore 64". It is a free, non-profit publication first issued in November 2013. In the moment the magazine is published 2x in the year.
Table 1 lists those involved with Reset.
Table 1 - Reset Magazine Contributing Staff
Name
Alias
Role
Kevin Tilley
(Unkle K)
Editor, Staff Writer, Design.
Vinny Mainolfi
(C64endings.co.uk)
Co-Editor, Staff Writer.
Nick Dibble
(Plume)
Staff Writer.
Paul Morrison
(PaulEMoz)
Staff Writer.
Shane Wood
(zap)
Webmaster.
Reset #01 November 2013
Reset #02 February 2014
Reset #03 May 2014
Reset #04 August 2014
Reset #05 November 2014
Reset #06 March 2015
Reset #07 July 2015
Reset #08 January 2016
Reset #09 June 2016
Reset 64 #09.5 January 2017