Jack Tramiel
From C64-Wiki
Jump to navigation
Jump to search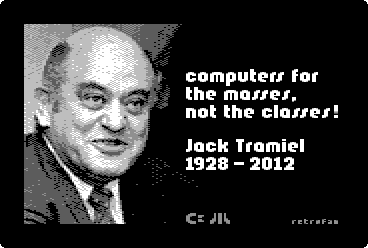 Jack Tramiel (* December 13, 1928 in Łódź, Poland † April 8, 2012 in California, USA) (born Idek Trzmiel) was a businessman and key figure in the popularisation of 8-bit and later 16/32-bit computers. He was was married and had three sons. In 1953 he founded Commodore and eventually went public with his company Commodore Business Machines (often referred to as CBM) in 1962. His company produced many early 8-bit computers, but his greatest success was the C64, launched in 1982. He left Commodore in January 1984, and in July of that year bought the Consumer Division of Atari Inc from Warner Communications, turning it from a failing subsidiary into a viable and successful company before finally selling it in 1996.
Unlike many others in the computer and related industries of the time Tramiel was not a "geek", but was renowned for his hard bargaining, once remarking that "Business is war." It was during his time at Commodore that he saw the potential of a wide market for what until then had been seen as specialised and expensive machines, as summed up in his phrase "We need to build computers for the masses, not the classes."
He spent his last years in retirement with his wife in Monte Sereno, California.
Born on December 13, 1928 in Idek Tramielski in Łódź (Poland).
Following the start of the Second World War in 1939 he and his Jewish family are forced into slave labour, including over 5 years in Auschwitz, until liberated in 1945.
In 1947 he marries Helen Goldgrub in Germany and emigrates to the US. He changes his name to Tramiel.
In 1948 he joins the US Army. During his service he visits a school for office technology at IBM and learns how to repair office equipment, including typewriters.
In 1951 he leaves the US Army and works as an office machinery technician. Additionally, works as a taxi driver during the night.
He becomes a US citizen in 1953. In the same year he founds a company with $25,000 loan from a US Army entitlement. His business idea is to buy used typewriters from the United Nations, repair them and sell them again. The company name is Commodore Portable Typewriter Company.
In 1955 Jack Tramiel moves to Canada, Toronto and repairs used typewriters for department stores and founds Commodore Business Machines (CBM).
In 1956 he opens a representation of the Italian typewriter label Everest with his friend.
In 1958 his first own-brand typewriters are built and sold via the department store chain Sears & Robuck.
In 1962 the company Commodore International Ltd. goes public.
During 1984 he resigns from Commodore due to differences with the board of directors and buys the games division of Atari .
In 1995 he manages Atari temporarily for his son Sam, who had suffered a heart attack.
In 1996 he sells Atari to the hard disk manufacturer JTS.
He makes his last public appearance on December 20, 2007, at the 25th Anniversary Celebration of the Commodore 64 in the Californian Computer Museum.
He dies from heart failure on April 8, 2012 in California, at the age of 83.

Videos
Video at YouTube Computer History Museum: Commodore 64 - 25th Anniversary Celebration